Adolph Gasser – A Photographic Pioneer
ART
by Hannah Freeman, June 7, 2021
Maybe you didn't know how one of the most prominent contemporary photographers is connected with our work at Focus, but the next little story will help you connect the dots.
As you already might know, FOCUS is settled in San Francisco, in the heart of the SoMa district. And the building that's a true landmark of this area, has previously been owned by Adolph Gasser, one of the most important photographic innovators of our time.
As a matter of fact, the building is still owned by the Gasser family who formed a partnership with the Innovation Property Group for the redevelopment of the property.
The intention was to bridge the gap between past, present, and future, restoring the Gasser Building to its rightful status and accentuating its artistic importance. Now, let's learn more about Adolph Gasser, as an omen to the man whose works have marked the twentieth century.
Who was Adolph Gasser and where did he come from?
Adolph Gasser was born on January 7th, 1912  to Swiss and German immigrants, Adolph and Marie Gasserand in the Richmond District. 
He was a prominent San Francisco businessman and pioneer in the industry of photography on our continent, in a time that was wildly marked with World wars, especially the second one.
He remained active in the business until his last years, leaving behind a huge collection, and generously sharing his time and technical expertise with young photographers and filmmakers. 
The impact and influence of Adolph Gasser photography on the community were felt for more than half a century, and even today artists look upon him for inspiration, especially those involved in black-and-white photography.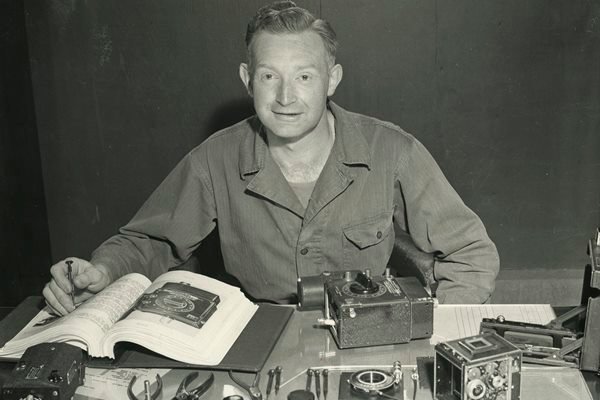 Adolph Gasser's early and US army years
Adolph Gasser graduated high school at the start of the Depression and began his career as a camera repairman and craftsman. He used to adjust cameras by pressing, altering, and customizing oculars on different photo equipment of his customers.
When he became known for photographing with a timing mechanism and other photography equipment skills, it got him enrolled in the US army troops.
In 1943, Adolph Gasser joined the Photo Division of the 509th Composite Group of the Army Air Corps.  He was a camera technician for his division, but was also responsible for loading and maintaining aerial cameras – including the ones on the atomic bomb missions to Hiroshima and Nagasaki.
His work and late years
Even before the war, Adolph Gasser ran a photography business in San Francisco – the General Camera Repair, where he designed custom parts and accessories for special order cameras. 
After the war, he continued his work and upgraded it by working with optics and optical alignment in still and motion picture equipment. 
His reputation and uniqueness as an expert technician spread like wildfire throughout the elite photographic industry, making him a lot of associates and friends amongst West Coast photographers.
During these years, he befriended and worked with photographers such as Imogen Cunningham and Ansel Adams, who became his best man for Adolph's second marriage.
Ansel Adams used his special enlarger and a strobe unit for the Big Eye Sports Camera in an unopened Egyptian pyramid.
Adolph Gasser died on March 23 when he was 94 years old.
Adolph Gasser worked for the emerging "Nikon" camera
Adolph Gasser's photography was and still is remarkable, but his knowledge and exceptional ability in design and engineering took him to Japan and got him a job as a technical consultant for the emerging "Nikon" camera. 
He was the first to introduce the new photography system to the US by bringing the Nikon camera with him and retained the patent rights for the "Sync Systems." 
The Hobby Center a.k.a
Adolph Gasser, Inc
. retail was born
In 1950, Adolph Gasser ventured into retail with a new company called the Hobby Center, today known as Adolph Gasser, Inc.
His company attained a worldwide reputation, combining sales of photographic equipment for all the existing systems of the time, and that included:
Still

Industrial

Professional motion picture 

Video and 

Digital camera equipment
Adolph Gasser was married twice. His first wife was Rose Schori and the second one Marion Canfield. He was a good husband and a dedicated father to his two children. He enjoyed going on picnics, cooking, and spending long hours in the garage fixing cars with his son. 
Adolph Gasser photography – Honoring a piece of history
One of the most striking photographs made by Adolph Gasser is a giant representation of the Golden Gate Bridge that he took on its 50th anniversary, in 1987. 
The bridge was loaded with pedestrians taking advantage and the opportunity to walk across the bay on foot. Many also remember the pictures of their African Safari that hung in his office. 
His technology and equipment are able to capture clear images in extreme cold, heat, and elevations and it's the main equipment used at the Air Force to provide accurate mapping intel for strategic airstrikes.
He was also active in the Royal Photographic Soc. and other professional organizations such as Park-Presidio Lion's Club and YMCA youth programs designed to foster a new generation of photographers.
Adolph Gasser was an absolute innovator in every sense of the word, a  man who overcame challenges with remarkable energy and resourcefulness. He faced life with courage, generosity, and vigor.