How Design Is Building a Positive, People-Centric Culture
OPINION
by Johan Quie, March 22, 2022
The pandemic has made clear how valuable human interaction is. By extension, it pointed out how impactful the places and spaces in which we gather have become. 
At Focus, we believe that the desire for people to reconnect should drive the recovery and that is why we emphasize the true impact of real estate on such matters.
Especially the design of our shared spaces is a forecast, and a collection of trends, insights, and practical advice of our clients and communities.
We create the next generation of spaces and places in a post-pandemic world. And what will they look like?
We invite you to read these few insights, as well as making an appointment to stroll around and help us make FOCUS shared workspaces more to your taste. More people-centric, and build sort of a new culture while working away from home.
A Holistic Approach To Coworking Spaces
With the ongoing flexibilization of work, new trends concerning work outside the company's premises such as coworking spaces are on the rise. 
We designed our coworking spaces to offer collaboration and community in furnished and equipped workspaces on a rental base.
Our holistic approach to coworking includes healthy buildings and spaces in which we live, work, and play, with a slight emphasis on connectivity, wellness, and social equity.
When it comes to the future office, health centers, libraries, and design that includes locally-sourced materials, art, and motifs are of utmost importance for the workforce in the post pandemic era.
A Healthier Alternative To The Home Office
Compared to the home office, the coworking space proved to be the preferred work arrangement. It is seen as a better alternative to the home office in terms of work- and performance-related, social, environmental and health-related aspects.
It is also recommended to further emphasize aspects of work environment and ergonomics in order to create health-promoting and satisfying workplaces.
The Recognition Of Commercial Real Estate In Bringing People Together
What we recognize now, more than ever, is the true value of commercial real estate lies in bringing people together. It contributes to shared experiences, such as attending a client meeting at the office, or cheering on the hometown team on game day.
Characteristics of Positive, Human-Centric Coworking Spaces
While the home office as a telework arrangement is still a great value for an employee, coworking spaces are becoming an increasingly established work arrangement among self-employed and freelancers working in the creative line of business.
Coworking spaces at FOCUS consist of a wide-open plan office that is accompanied by conference rooms, private offices, or cafés.
Additionally, community management includes the organization of events or supporting programs. 
Our coworking spaces vary regarding equipment, philosophy, design, and rules depending on the preferences of our coworking space operators, as well as users. 
In this regard, we are able to extract several typologies of coworking spaces that have been presented as most people-pleasing so far.
Design That Welcomes Lifestyles And Communities –  The "Neighborhood" Concept 
Today, our cities, neighborhoods, and coworking spaces are becoming more open, likable, and accessible for everyone. 
Designers are revisiting the "neighborhood" concept in which commercial, residential and institutional services are all within a 20-minute walk or bike ride. 
These alterations are usually linked with a range of affordable housing options nearby, grocery stores with fresh food, healthcare clinics, pocket parks, and smaller offices or coworking spaces that enable more people to live closer to their work.
How should it look?
The embodiment of this approach is a multi-modal site. Libraries that are airy, light-filled buildings with classrooms, indoor and outdoor seating areas, and event spaces. 
It is also a unique adaptive reuse project. Imagine transforming a former manufacturing warehouse into a center for learning, cultural programs and focused work that serves all ages and needs.
We now see more opportunities to open up the area with streetscapes that provide outdoor dining, retail, events and walkability.
The fulfilment comes from creating places where people find joy and purpose.
The Concept of Stress and Strain
A conceptual separation of working conditions, the work environment, and an individual reaction to these factors is a hypernym for the working system that relies on employees. 
According to that, "stress" can be caused to describe work such as the task, equipment, and tools as well as physical or social factors. 
As a result, dependent on individual factors (constitution, abilities, and health status), we develop a mental strain.
Implementing Digital Technologies To Ensure Seamless Integration 
Moving forward, coworking spaces need to become experience-driven and flexible – adapting to the employee's needs of the day.
This includes the implementation of digital technologies to ensure a seamless integration between physical and virtual experiences.
For example, providing mobile apps that coordinate building check-ins, room reservations, and lunch orders.
Evolving With A Mix Of Amenities
Office buildings must also evolve. Amenities must go beyond the café and fitness center. 
On-site health checks, touchless security, enhanced air quality systems, access to natural light, and outdoor spaces… These must go hand-in-hand for creating healthy working environments. 
Design that includes locally-sourced materials, art, and motifs. Accommodating new commuting options such as bike and scooter racks, electric vehicle charging, and even an influx of delivery vehicles is also critical for a successful, activated coworking building.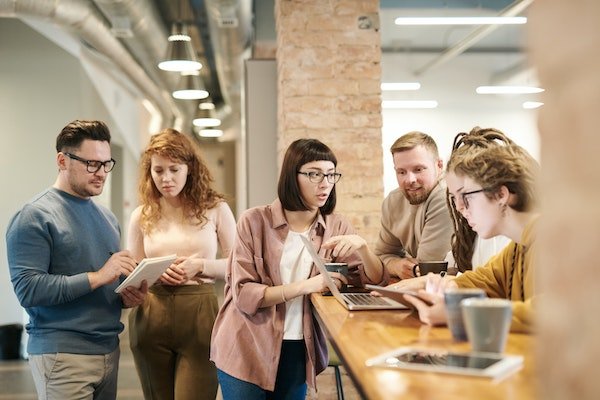 Harnessing the Power of Positive Thinking In 2022/2023
Positivity breeds positive outcomes. Entrepreneurs are generally more optimistic about their future than regular workers.
More than 30 percent of our users imagine that in five years, they'll enjoy their "best possible life" as compared with 25 percent of other workers. 
That clearly indicates that these people are accepting accountability for their lives and for what will happen to them.They are going to make it a great life. Starting from the place where they work.
Places that will support their visions, community and social connection will perform better. The answer can be found through the power of design, and its ability to address the evolving human needs and expectations in a new world.