The Ultimate Employee Engagement Guide
OPINION
by Charlie Cutler, March 29, 2022
Don't you just love happy, productive, and unstressed employees? 
If that's your goal as a manager or employer, you need to stop looking elsewhere and read this amazing Employee Engagement guide. 
We feel it's just the right thing you should start with to build engaged and successful teams.
What Is "employee engagement?" 
Engaging an employee is no joke.
We've been going through numerous articles looking for that one that can elevate the employee experience in your company.
Employee engagement is a common topic in HR and its popularity has grown immensely over the past four years. Especially since COVID.
The concept of employee engagement should not be confused with happiness. It's really more about an employee's psychological investment in their organization and motivation to produce extraordinary results.
In simple words, it's an emotional commitment employees have to their job, their team,  goals, and their company's vision.
Remember!
Only an engaged workforce can generate valuable business results. That one link between employer practices and employee performance is – BUSINESS RESULTS. 
Based on those results, we have several different employee engagement types, such as:
Highly Engaged

Moderately Engaged

Barely Engaged

Disengaged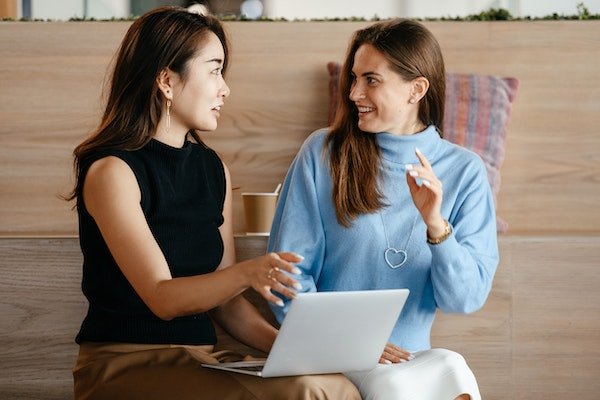 Employee Engagement Factors
When people are financially invested, they want a return. When people are emotionally invested, they want to contribute. 
Employee engagement is all about emotional connection.
Strategies for employees engagement have in the past focused on rewards such as pay increases, bonuses, or flexible working hours. 
But it's the feeling-based relationships that have made a difference, and inspired effectiveness, retention, and will to act as an ambassador for your organization. 
Besides emotional connections, important employee engagement factors are:
Purpose

Psychological safety

Flexibility

Ownership

Development

Recognition

Company values

Work relationships

Communication
Employee Engagement Is Management Issue. The Role Of Managers
Managers play a vital role in increasing the employee engagement level in their workplace.
Good managers fill the role that HR cannot. Managers build personalized relationships with their team members, they empower and motivate their people. 
Here are three things employees want from their managers:
Growth and development opportunities

: Prioritizing employee development significantly impacts employee engagement.

Recognition and appreciation:

Recognition from your immediate supervisors is often more meaningful and authentic.

Communication and Feedback:

Regular one-on-one meetings establish authentic connections with employees, and give managers valuable insight into what motivates (or demotivates) their people.
How To Improve Employee Engagement 
Wondering how to increase employee engagement? Here are SEVEN successful employee engagement strategies, based on studies and research.
Thoughtful onboarding:

Companies with great onboarding processes boost new hire retention by 82%, and employee productivity by 70%.

Improving communication:

Communication is a building block for creating a holistic work environment. ANYWHERE. It encourages teamwork and collaboration.

Recognize efforts and contributions:

When employees feel appreciated – they stay. It's as easy as that.

Prioritize employees' wellness:

Both physical and mental are at stake now, especially after shifting the

work-life balance

.

Encourage Personal and Professional Development:

76% of employees are looking for career growth opportunities.

Well-defined responsibilities = Clear goals
ASK FOR FEEDBACK!
Employee Engagement DOES NOT Require A Big Investment!
Most startups think that employee engagement programs or practices need a lot of investment. But it's not true! You don't have to break your bank to do it.
Companies can improve engagement by paying more attention to their employees. Mainly providing them with a good working environment, the right tools, amenities, etc. 
That is why we've created a great employee engagement environment at FOCUS, with tools available all the time, for the price of one membership fee. At FOCUS, you have all you need to get started!
5 Prime Benefits Of Employee Engagement
Why Is Employee Engagement Important?
Well, engaged and committed employees are more productive, motivated, and success-driven. But the employee engagement benefits do not end here. Here are some of the most valuable ones:
Higher retention

Enhanced customer experience

Higher profits

Low(er) absenteeism
Next step?
In our next section, we've covered the strategies (backed by data) that will help your company increase employee engagement through office and workspace design. Make sure you check those ones out.
NEW: How Design Is Building a Positive, People-Centric Culture While Working
Actually, we've written a lot of handy guides on how to win in the marketplace by investing in your space and making people happy with where they work.
We're obsessed with keeping employee engagement front and center. You'll see why once you click HERE.