Why is coworking space ideal for both introverts and extroverts
OPINION
by Johan Quie, October 27, 2020
Working in a coworking space is an interesting experience on its own. Anyone who has the option to work from home and still chooses to go to a coworking space must really be serious about their work, but at the same time open for new experiences and ways to approach things. 
When you walk into our coworking space, you'll see many different types of people, from various industries with a diverse range of job positions, but they all have one big thing in common: they came here to work and get stuff done. 
Focus is a great environment to get all kinds of work done and be productive. No matter if you are an introvert or an extrovert, you can thrive in a coworking space due to many amenities and designated areas being available. Let's talk in detail about how both personality types can benefit from a coworking space.
Coworking for Introverts & Extroverts – Differences

First of all, coworking for introverts and extroverts works. Coworking spaces are great for any personality type because they offer something for everyone. No matter if you're an introvert or an extrovert, we all seem to thrive in plug and play offices. 
Many people will ask a quite logical question: "Why would an introverted person purposely surround themself with unknown people?". Well, let's start with the fact that one in five employees consider themselves an introvert. And although they might find it draining to be among people for longer periods of time, they still need to be surrounded by people in order to gather skills and knowledge, and ultimately – improve.
Traditional offices don't tend to give introverts control over their social exposure and thus they appear as vulnerable. Remote work might kill their spark, and create an isolated feeling and deep nesting into the comfort zone, which is not good in the long run. Coworking space might really be the best option for self-contained individuals.
Even though introverts shy away from social gatherings, they don't particularly hate socializing. We nurture a no-pressure kind of socializing at Focus, and it happens naturally, without making anyone feel like they have to be a part of it. That's why the atmosphere is more relaxed and at ease. Nobody has to be an acquaintance with everyone. Coworking space allows introverts to set their own pace, with whomever they want and feel content.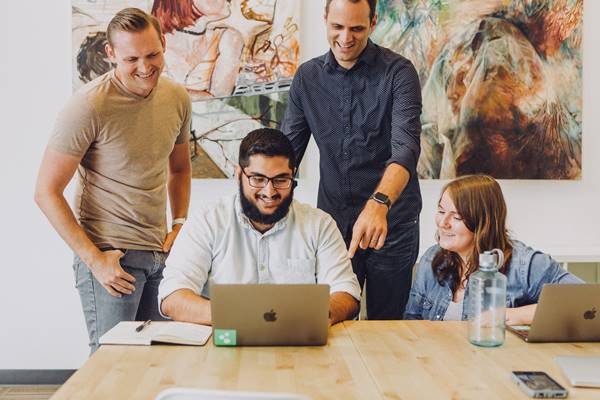 Another great perk of introverted and extroverted coworking spaces is that introverts have enough space to enjoy solitude.  There are cozy areas, cafeterias, cubicles that one can go and simply recharge themself whenever they feel drained. 
Extroverts on the other hand might enjoy group activities that are often organized within coworking spaces, be it a celebration of a festival or simply fun, lively activities. 
One of the biggest advantages of coworking space is that it gives avenue to shy, introverted people to learn social skills and become self-sufficient, while still having their own private territory. 
Solutions for Coworking for Introverts & Extroverts
Here at Focus, we believe in a workplace designed in such a way that supports different workstyles. No matter if you're an introvert or an extrovert, Focus members have access to various environments that suit their needs. The coworking space offers an abundance of shared workspaces for extroverts to perfectly balance their work and need for socialization. There's fresh Pete's coffee provided to have a casual char over our favorite liquid inspiration.
Focus also features seating areas that provide peace and quiet for those who prefer to work without interruptions. For those professionals who need more privacy in order to increase their productivity, we offer dedicated desks and private offices. They are optimal solutions for individuals who want a bit quieter space to be efficient and productive without sacrificing the amenities that might come with a coworking space membership.
No matter what your personality type might be, we have a solution that fits your needs. We will make sure that you experience encouragement and eagerness to work. If you're interested in our coworking membership, a dedicated desk or private office give us a call or send an email.